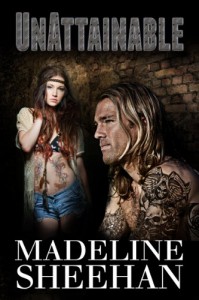 Well, I should have figured that I'd get nothing done when I saw that Unattainable was out. I've been looking forward to this book ever since I finished Unbeautifully. It's almost 6am on Wednesday, and my head hurts from lack of sleep and all the craziness I just went through.
I LOVED TEGAN!!! For me, this book was all about the heroine. Sure, Cage was sexy, but I've met many sexy badasses before. I haven't met another heroine like Tegan. Though I really like the previous heroines in this series, Eva and Danny, they're a little too...perfect. They were biker princesses, so even though they live in this crazy, violent world, I felt like they existed inside of a safety bubble. Tegan was the daughter of a club whore. She never lived in a protected bubble, and she was never seen as untouchable. She watched her mother do everything for a married biker who never left his wife or treated her with love and respect. When she realizes just how much she loves Cage and sees how little he cares about her, she's determined to make sure she doesn't become her mother and lashes out against him and the world he (and she) came from.
I loved how honest Tegan was about her feelings for Cage. Sure, she didn't tell him what those feelings were, but she also didn't try to sugarcoat them. She hated him and loved him, and she felt both of those emotions completely throughout the story. I also loved that Tegan lived her own life. I loved how she tried to kill or numb her feelings for Cage with random sexual encounters. I loved how she kept a grudge for so many years and made Cage really work before she fully accepted his apology. I loved how she went crazy and started yelling at Deuce and the other bikers in the story. Was it stupid and immature? Yeah, maybe, but that wildness and disregard for her own safety just showed how passionate she was. Tegan is both fragile and strong, and I loved watching her come to her own in the story. And finally, I loved how she took care of Cage at the end and came through when he needed her most.
I didn't love the romance in Unattainable one as much as I loved the romance in Unbeautifully. It's kind of hard for me to put my finger on why. I think part of it might be how much time passed in the book. I kind of wished it was more condensed (though that would have made the secondary romance less believable). Cage and Tegan were so wild and raw and passionate that I wish their romance had felt more like one huge explosion rather than a bunch of little explosions that kind of fizzled out at the end.
The romance between Danny and Ripper in Unbeautifully is pure magic. It's dark and intense and twisted and beautiful and unlike anything I've read before. Well, except maybe for the secondary romance in Unattainable. A lot of people seem to be going wild for this romance and it's really easy to see why since it's like the tumultuous romance between Danny and Ripper on steroids. Even though my heart broke for Dirty, I just couldn't forgive him for how he treated Mama Vi and the many club whores, and ended up skimming these sections.
I can't wait for the next story! It's going to feature Tegan's mom and I just know it's going to be amazing. Madeline Sheehan set it up so well, and as a writer she really shines when her romances take place over many years, and this romance is going to need lots and lots and lots of years. ZZ also makes an appearance, and I'm excited (and afraid) to see what's going on with him!